Eagle River Lake Homes - $200,000 to $299,999
Listing information provided by Listing Office via Greater Northwoods MLS -
Higher Value Listings Have Gold Bar
Take advantage of this EXCITING opportunity on Finger Lake! With 4.5 acres and 350' of frontage, there are endless opportunities to live, work and play. The property contains two garages with living spaces. Above the well-kept primary garage is a large open living/bedroom space with an attached full bath. A spacious kitchen finishes the upstairs. The secondary, single car garage also provides a living space and full bath. After a short walk down to your 350' of frontage you can enjoy a day filled with fishing right off your own dock, or relax as you boat around the charming 90 acres of Finger Lake! The property provides a tranquil wooded feel with plenty of open space to garden, or build your future home. Possibilities are endless with this property!
Price: $299,000
Finished Sq Ft: 837

Eagle River

/11 mins
Unique block home located on a level lot on Upper Buckatabon Lake. 2 bedroom, 1 bath home has big windows that look out onto the water. Lot is quiet and peaceful. Level lot offers easy access and a short walk from the door to the dock. Single car attached garage and additional metal storage building that measures 27 x 12. 9979
Price: $289,500
Finished Sq Ft: 928

Eagle River

/27 mins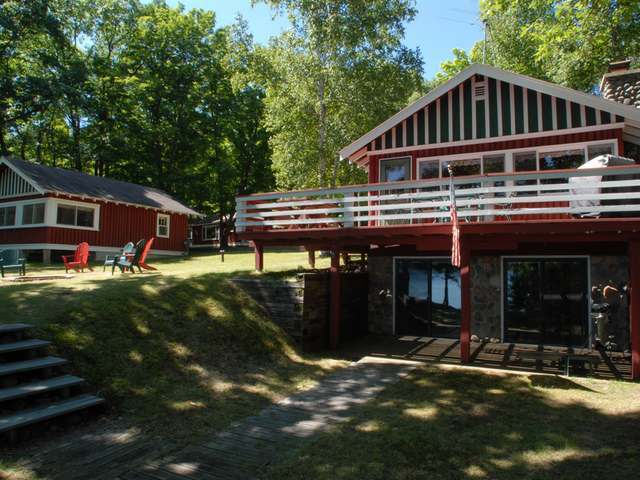 PIONEER LAKE COTTAGES- Looking to be up north and make some income too? Let someone else pay for your place. Three cabins sitting on the edge of 427 acre Pioneer Lake with quality water frontage. The zoning is recreational so you could rent 1, 2 or all 3 of the cabins out on a weekly basis. There is 200 feet of nice sandy frontage and views of the whole lake from this property. Pioneer Lake is known for a great fishing lake and offers great recreational boating. All the cabins are neat and clean and are perfect for that family vacation. The price is less than $100K a cabin so this is a no brainer. A steady stream of income could pay for your Northwoods getaway so look no further. **1 well, 2 septics, main cabin used in winter. A great lake escape with rental potential is calling your name!
Price: $249,000
Finished Sq Ft:2328

Eagle River

/16 mins
Totally remodeled Eagle River Chain home! This 3 bed 1 bath home with some charm of yesteryear provides a terrific opportunity for either an investor or owner /occupant. Sellers have enjoyed this home and the conveniences it provided from walking/biking anywhere in town for years. With the ability to jump on the chain right out the front of the home on their private waterfront parcel made this location superb! The home would make for a fantastic weekly rental and renters could enjoy the permanent dock, boating and fishing along with easy access to everything Eagle River has to offer. Town amenities including shopping and dining are all within a hop, skip and a jump from here. Look through the 3-D tour, aerial shots and interior pictures to get the "feel" of everything this home and location has to offer.
Price: $219,900
Finished Sq Ft: 1076

Eagle River

/7 mins
If you are ready to start looking at Northern Wisconsin lake properties, I would love to be your agent. Every buyer is looking for something a little different and I take pride in finding the right properties at the right price that meet YOUR criteria. The ultimate goal is to make the buying process smooth and enjoyable for you and your family. You can tell from this website (hopefully!) that my focus is providing you with all of the facts to consider when buying a property. Allow me to apply my knowledge of the area lakes and the current real estate market to help you find your Northwoods paradise.
Choose me as your Northwoods real estate agent and you receive 100% effort guaranteed!