Black Oak Lake

Land O'Lakes - 7 minutes

Clarity: 35 ft
Avg Depth: 34 ft
Max Depth: 85 ft
Size: 564 Acres
Type: Seepage
Access: Public

Black Oak Lake is an absolute jewel of a lake. First, it has the clearest water in the state, and in a state with 10,000 lakes, that's saying something! The water clarity just blows a person away when you see it. Second, it is in a great location. It is far enough north that there is very little traffic, but it is still within a half hour of bigger nearby towns and only 5 to 10 minutes away from Land O'Lakes. Biking, hiking, atv and snowmobile trails run real close to the lake so you are always close to activities. Paddling on the lake is an awesome experience because of the clarity. Black Oak Lake is really an awesome lake, but what I like best about it is that it is a truely unique lake. You literally can not get water quality like this anywhere else, and that means a lot.

More information about Black Oak Lake
HOMES FOR SALE
You wont find a clearer, more pristine lake setting than this Black Oak Beauty! This is the nicest property to be offered on deep, crystal clear Black Oak Lake in years. 5160sf 4 bedroom 2 bath estate sits on private 2.78 landscaped acres and boasts 300 feet of sugar sand frontage.Knotty Pine Cathedral Ceilings, Panoramic views, 2 flagstone custom fireplaces, lakeside master suite, sauna, attached entertaining lakeside gazebo all just steps away from perhaps Vilas Counties Finest Glacier Lake! This 584 acre deep clear lake boasts huge walleye, lake trout, pike, bass and incredibly large panfish. Just a short jaunt to bike path, Land O Lakes amenities and snowmobile route. So much more and a MUST SEE!
Price: $859,000
Finished Sq Ft: 5160

Land O Lakes

/8 mins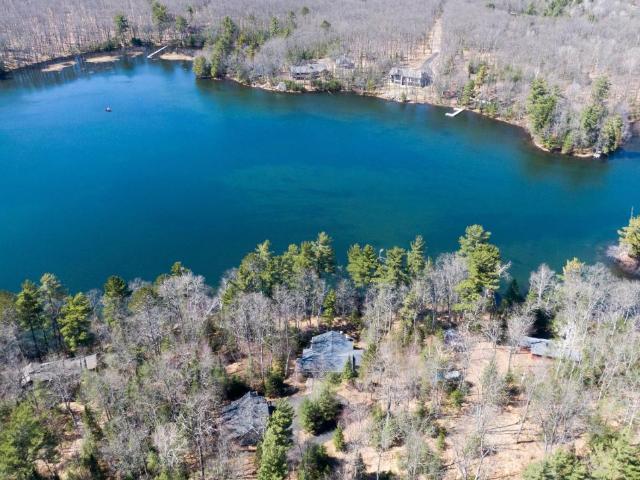 Black Oak Lake Home and Guest Quarters-Here is your chance to own a beautiful 3 bed 2 bath home with guest quarters above the garage, on the clearest lake in the state! Black Oak Lake has visibility down to 30' and a strong Lake Association, so the water quality will be healthy and pristine for generations to come. Wake up to amazing views from your bedroom, and enjoy that same view while you sip coffee from the sunroom, great room or 3 seasons screen porch. Located on the west bay, the peace and quiet on this 272' of sand frontage will make it so that you never want to leave! A large, dry boathouse is located less than 10' from the shore, so a great place to tuck all of your water toys. The "Sugar Shack" is located just above the 3 car garage, and perfect for out of town guests. Located close to ATV/Snowmobile and Bike trails, this is the ideal location to get away from it all. Great swimming and fishing, come and see why living on Black Oak Lake is the best!
Price: $699,000
Finished Sq Ft: 3170

Land O Lakes

/8 mins
This home (which has yet to be built) offers a once in a lifetime opportunity. What is so unique about this place? First, it is on Black Oak Lake. Black Oak Lake is one of the, if not the nicest lakes in the state of Wisconsin. The water quality and clarity just can not be beat! The second feature that makes this place so unique is its proximity to the water. The home is only ten feet from the water's edge! You can pretty much broad jump from the house into the water. The house will be three bedroom and three bath. It is set up as two master bedrooms that have their own baths, and then a third bedroom that also has its own bath but it shared with the rest of the lower level in a Jack and Jill setup. The lake side of the house is mostly glass and features four windows that are 8 ft tall and 6 ft wide each! You will feel as if you are living on the water instead of near it.
Price: $650,000
Finished Sq Ft: 2000

Land O Lakes

/8 mins
SIGN UP TO BE NOTIFIED OF NEW LISTINGS ON BLACK OAK LAKE
LOTS FOR SALE
All listing information provided by Listing Office via Greater Northwoods MLS
If you are ready to start looking at Northern Wisconsin lake properties, I would love to be your agent. Every buyer is looking for something a little different and I take pride in finding the right properties at the right price that meet YOUR criteria. The ultimate goal is to make the buying process smooth and enjoyable for you and your family. You can tell from this website (hopefully!) that my focus is providing you with all of the facts to consider when buying a property. Allow me to apply my knowledge of the area lakes and the current real estate market to help you find your Northwoods paradise.
Choose me as your Northwoods real estate agent and you receive 100% effort guaranteed!
BLACK OAK LAKE DETAILS
WATER INFORMATION
| Size | Shoreline | Clarity | Water Color |
| --- | --- | --- | --- |
| 564 Acres | 7.41 Miles | Best in State | Aqua Blue |
| Max Depth | Average Depth | Lake Access | Lake Type |
| --- | --- | --- | --- |
| 85 Ft | 34 Ft | Public | Seepage |
LAND INFORMATION
| High Speed Internet | Natural Gas | Cell Coverage | Home Density |
| --- | --- | --- | --- |
| Yes | Yes | Good | Below Average |
| Township | School District | Tax Rate / $1000 | Rentals on Lake |
| --- | --- | --- | --- |
| Land O'Lakes | Northland Pines | $9.39 | Yes |
SURROUNDING ATTRACTIONS/PLACES TO GO
| Nearby Grocery Stores: | Distance: |
| --- | --- |
| Coontail Market | 28 mins |
| Pick 'n Save | 30 mins |
| Roads Around Lake: | Closest Hospital: |
| --- | --- |
| Average | Eagle River / 30 mins |
Nearby Biking/Walking/Skiing Trails:
Eagle River - Land O'Lakes Bike Route - A 22 mile route the connects Eagle River to Land O'Lakes. The route is on the road so you should be sure to watch for vehicles. The roads are back roads and wind through pretty Northwoods forests.

WLT - Land O'Lakes Trail - A 12 mile (and expanding) paved trail system that runs through Land O'Lakes. The trail will eventually connect with the Agonikak Trail which runs all the way up to Watersmeet Michigan.

Wilderness Lakes Trail System - The WLT makes a 40 mile loop through Wisconsin and Michigan. The trail has some paved and some unpaved sections and winds around many remote lakes. There are multiple bathroom facilities along the route.

Land O'Lakes Cross Country Ski Trails - 7.5 miles of groomed cross country ski trails as well as some ungroomed trails. The trails are groomed extra wide to accommodate snowshoeing as well.


Nearby Paddling Routes:
No paddling route within 10 miles, but Black Oak is probably the nicest paddling lake around. Paddling on the insanely clear waters of Black Oak Lake is an experience you just can not replicate anywhere else. It's quiet, it's big, and clarity like this is just incredible to experience.
Nearby ATV Trails:
Landover ATV Club Trails - A vast network of ATV trails that connect Eagle River to Upper Michigan. Owners at Black Oak Lake have easy access to the trail as it runs just to the south of the lake. There are a variety of riding options ranging from paved roads to trails through the national forests. By far the largest ATV trail network in Vilas County.
Nearby Snowmobile Trails:
The trails of the Land O'Lakes Frosty Snowmobile Club run just to the south of Black Oak Lake providing easy access to owners on the lake. The club grooms and maintains 45 miles of trails. Of course these trails connect with the trails of all the other clubs up in Northern WI, so you can get anywhere you want.
LAKE DEPTH MAP
PLACES TO EAT